Thursday March 17 at the The Padre Hotel:
Atomic Kitten Salon competed in round two of the 2016 Glamour Fatale – Battle of The Salons Bakersfield taking first place, again!
The theme for this week was "Nature's Elements" (as in Water, Earth, Fire & Wind) and the Atomic team threw an astonishing "Curve-ball" by producing an avant guarde collection of Post-apocalyptic Elements. Each of the three primary models were judged on Hair Style, Make-up and Wardrobe and two additional "Prop" models with an earthy dried mud make-over were used on the runway to creep around and place the audience in the mind set of this "dark beauty" theme.
Our first Model Mariah, was both the Air & Earth Elements and she breaths oxygen (Air) from a tank on her back containing a "GMO Air-Orchid" (Earth). Her hairstyle of concentric blonde & black strands further emulated the tubal style and complimented "end of the world" fashions. Model two, Megan represented Water and her hairstyle was comprised of an elaborate array of blonde braids. She wears a wrist apparatus containing "The Liquids of Life" that support her in the bleakness of days after civilization collapsed. And our last Model, Amani heats up the catwalk as she represents Fire, sporting a hair style made up of intricate rings of fire.  At her side was a glowing ember pouch of coals as she was the tribes fire starter. The crowd was wowed, as where the judges and Atomic Kitten moves forward into the Finale.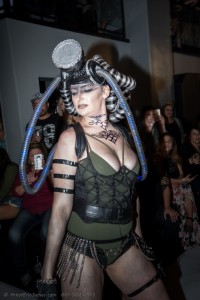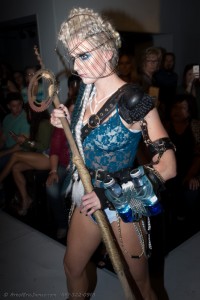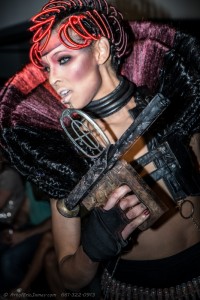 ---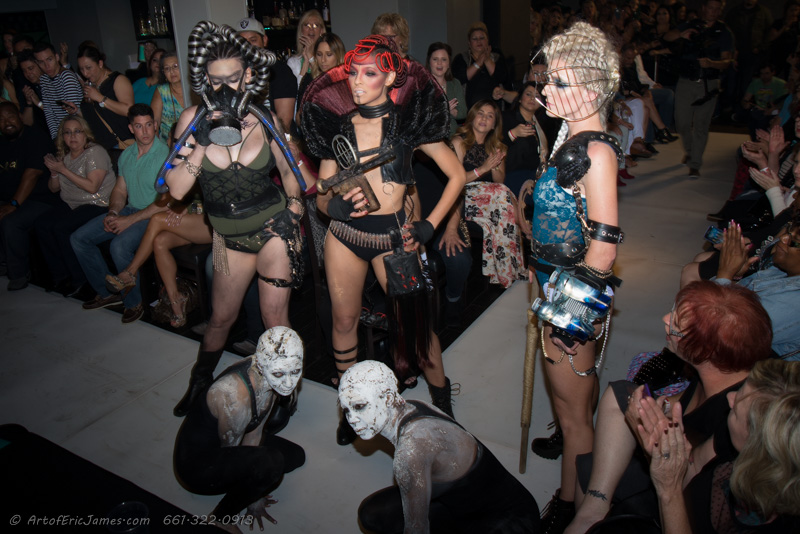 PHOTOS: ArtofEricJames.com