In a recent photography studio session, make-up Ramona Potts demonstrated new safety procedures using full personal protective equipment .
This proof of concept session was in anticipation of being allowed to open Atomic Kitten Salon for business when deemed appropriate by State Government Officials.
Developing new procedures now in order to be ready once the time comes for re-opening is a prudent forward looking ideology that has a positive message for the hopes of the entire industry.
Atomic Kitten Salon has always been an industry leader and now showing the way to adapt to the current conditions with new precautions, while maintaining that classic friendly creative style that the Atomic Kitten has provided its customers from the beginning
…but always mindful that the results, be perfection.
When interviewed, Ramona Potts was quoted as saying;
"We are essential to the health and well being of our clients. They need us now more than ever to stay safe and beautiful. We know how to keep you safe by doing what we have always done, Sanitize everything and wash our hands all the time.

Going forward the staff at Atomic Kitten salon will be taking extra precautions to make sure all our clients feel safe and beautiful. As we get closer to reopening …expect to see what extra measures we are taking to ensure the heath and well being of everyone staff and clients.

Stay Safe,  Stay Beautiful."
The extent of the precautions taken was impressive. Modeled after known medical PPE (Personal Protective Equipment) and from guidelines provided by the CDC (Center for Disease Control)
Ramona demonstrated the new procedures which included first vetting the subject by taking a temperature reading using a digital infrared laser thermometer. During the application she donned a Medical grade N95 mask (Cat ears & whiskers optional) and a plexiglass face shield, slipped on Latex gloves then covered up with a Nomex jumpsuit in order to start the session. This provided the isolation between individuals to reduce the risk of any cross contaminations and spread of Covid-19 virus.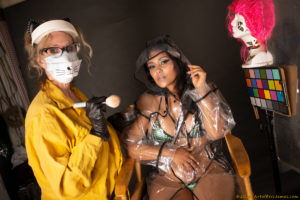 The concept photoshoot took place at  ArtofEricJames.com Photography & Video Productions Facility
and was instrumental in helping develop many of the techniques used.
Looking forward to implementing numerous new safety protocols at the salon and re-opening soon…
~Ramona Potts, Owner of Atomic Kitten Salon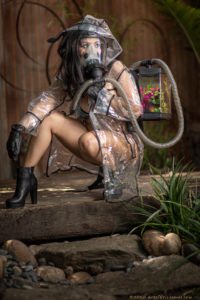 "The New Normal" ?
Editorial Fashion Shoot
Model: Jessica Franco
MUA: Ramona Potts of Atomic Kitten Salon
Photo & Prop design: Eric James Swearingen
at ArtofEricJames.com Photography & Video Productions