Ramona Potts ~ Owner – Master Stylist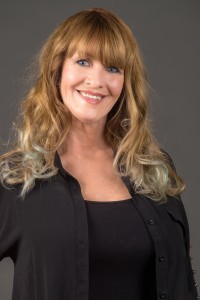 Ramona has been licensed for 15 yrs but has been in the industry for 30 yrs first as a salon sales consultant educated by industry manufactures such as Sebastian hair care, Nioxin for thinning hair, Wella and Framesi hair color just to name a few. She is a certified Great Lengths hair extension technician and platinum member. Ramona is also certified in the tape in method of hair replacement. Hair extensions are her passion because they give her the tools to change people lives by transforming their hair. She uses primarily Wella color and Enzyme developers to create beautiful hair color. She loves to challenge color correction and blonding is her forte. Ombre hair is the newest trend she has mastered. Long layered styles are her specialty haircuts. Ramona loves make up and does all genres of looks including special Fx and makeup for photo sessions and special events. She does airbrush foundation for its flawless look and long lasting results. Ramona is available for day and evening appointments.
Sandra Serrano
Sandra lived in Los Angeles for 10+ years and In Vegas for five years. In addition to hair, she has done photography, was a tattoo model, and currently teaches dance fitness. Sandra has worked on celebrities, models, porn stars, and musicians. She has worked on plays, runway, magazines, TV, commercials, music videos, and on stage. Just a few people she has worked with/on are Anna Nicole Smith, Marilyn Manson, Dave Grohl, Maynard Keenan, Lemmy Kilmister, Placebo, Chyna, Mayte Garcia, MSI, The Mighty Boosh, Nikki Benz, Amina Munster, Kimber James, Nina Hagen, Russell Brand, and many more. Sandra has traveled the world but has now settled back in her home town of Bakersfield. She still travels to select cities for work. Any questions, feel free to ask.
Sandra only uses enzyme developers for all of her hair colors and bleaches. With enzyme developers, there is no need for hydrogen peroxide. Hydrogen peroxide is what causes breakage, split ends and color fading. With enzymes, your hair will be left with more shine, elasticity, longer lasting color and 80% less damage. Hair color takes half the time and gray coverage is perfect. Enzymes are 100% safe to color hair while pregnant.
Initial in person consultations are ALWAYS required. Call or email Sandra to setup a consultation. She guarantees all of her work.
Maria Howell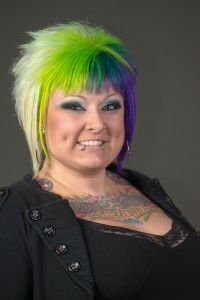 Maria has been licensed for 9 years and was one of our original stylists when we first opened She specializes in vintage and pin up hairstyles but can do any style for weddings, proms, and photo sessions. She uses Wella color and specializes in bright fashion colors. Maria did amazing extreme hairstyles at our Battle of the salons competion. Big hair is her forte but she can do hair extensions, hair color, and is excellent at short fun haircuts. If you are ready for some fun hairstyles and color Maria is a very passionate hairdresser and can create any hairstyle you can dream up.
Cheryl Daniel
Cheryl has been licensed for 13yrs as a barber / cosmetologist. This makes her a versatile stylist for both men and women's hair. For men she excels at clipper cuts fades and all phases of men styles including facial hair grooming. For women she is a precision hair cutter and foil weave artist but keeps educated on new techniques and does beautiful balayage ombre color. She is certified in the original Brazilian blowout hair smoothing treatment.Cheryl is also a hair extension technician who does the tape-in method of extensions. As a special occasion stylist she does up do hair styles and makeup for weddings, proms, formals and photo sessions. Cheryl is also available to travel to your location.
Malia Casarez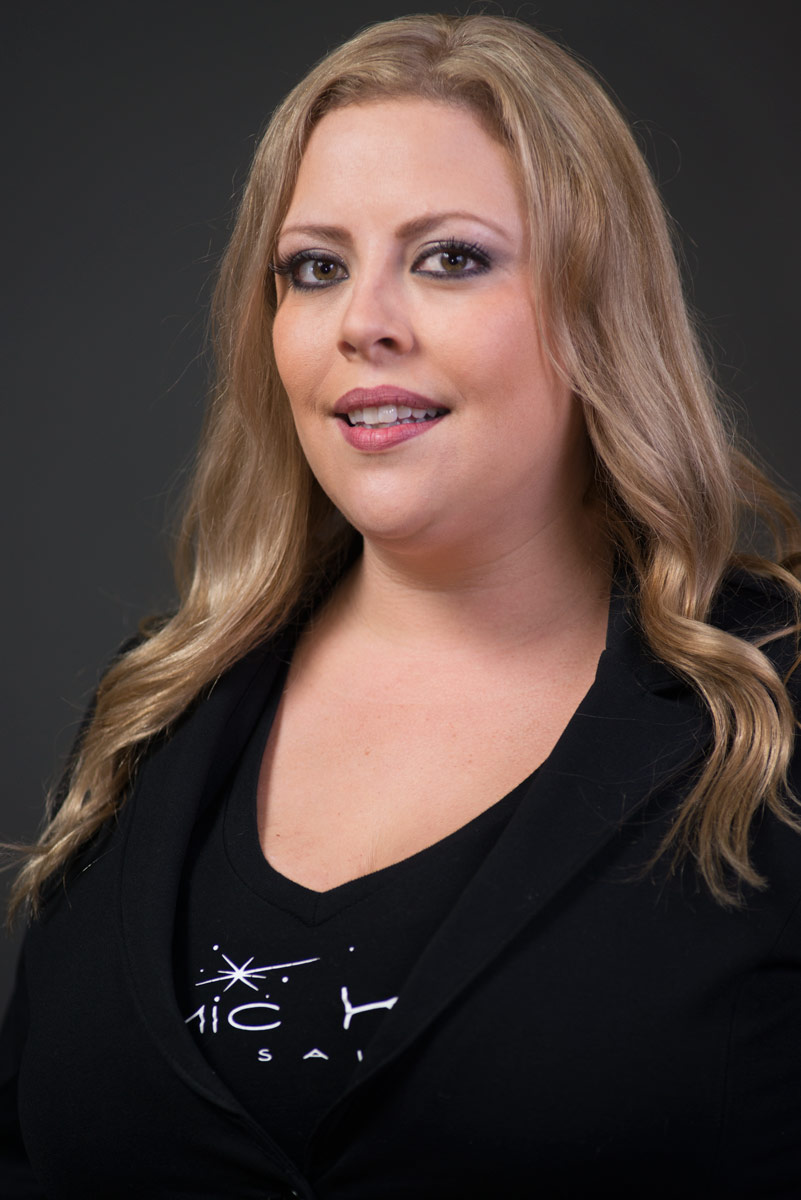 She is available for all phases of haircolor, cutting, and Extensions. She has advanced education from Paul Mitchell, Enjoy, Tigi Bed head, and Pravana. Her primary color line is Pravana.If you are the type of person to develop a life long relationship with your stylist Malia is your new hair bestie. She is friendly, fun and caring. She takes her time to listen to your concerns and educate you on how to achieve your hair dreams while maintaining the health of your hair.balayage ombre, hot fashion colors, beautiful blondes malia can do it all, she is our talented ray of sunshine. As a family stylist mom, dad, and the kids will all look forward to hair appointments. You can see her amazing before and after photos at Instagram Malia Casarez.
Teanna Hill

"I truly love what I do.I love how every day is a new head of hair and a new experience."Teanna is one of our most artistic stylists. She specializes in fashion colors and color corrections. The master of amazing transformations.
Her cutting skills are on point. Elevated bobs, textured mullets, long layers, mens cuts, precision fades she can do it all.
She is continually learning new techniques to bring you the most updated cuts and colors. Her advanced education includes color classes from Wella, Matrix, Redken, Pravana, Big sexy, and Schwartskopf. Updo classes from Big Sexy. Teanna attended the Carlton Academy a Sassoon based haircutting training facility.
Teanna is very active in the community doing volunteer work for back to school and veteran care.
Tanya Murrell

"I've never specialized but try to be well rounded to provide a variety of services."
Tanya is one of our most experienced stylists. She is an amazing haircutter proficient in Pixies, bobs, Mullets, shags, cuts for women and men including scissor and clipper cuts including fades. She is great at coloring to enhance your new haircut.
She does retexturizing services. Perms for men and women and Keratin smoothing.
Tanya has extensive advanced hands on training at the Wella institute and Carlton academy a Sassoon based haircutting academy. She has trained with Nick Arrojo, Sexy hair, and Malibu. To see her work her Instagram is tmurrell64.
Jan Mills Bishop

"
My goal is to make sure your hair stays in optimal condition while achieving your hair goals."
Jan was one of the first educators to teach hairdressers to color hair with the least amount of damage using enzyme developers a peroxide replacement. She is amazing with all color, highlights fashion color and balayage ombre.
She is one of our best haircutters. A natural at short pixies, precision bobs or long layered cuts. One of her men haircuts said this is the best haircut I've had in 30 years.
Jan is our perm specialist. Curls are coming back in a big way whether she is showing you how to work with your natural curl or perming your hair to get those beautiful curls you see on Instagram Jjan is the stylist you want.
If you don't have the time to spend all day in the salon Jan has perfected her skills to be able to achieve beautiful hair in a time efficient manner.
Petra Rollolazo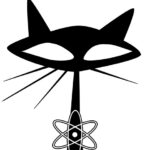 Petra is our hairstylist / manicurist. She does all phases of hair color, cuts, and perms. Long thick hair or difficult hair problems are not a problem for Petra. She is well trained at highlights, fashion color and balayages. She is also a great haircutter for men, women and children.
If you are in need a hairstylist who can do everything beauty related Petra can do it all. She does gel mani/pedi's. Acrylic nails, and nail art, and teeth whitening.
Petra works in a private room if privacy is a concern that option is available with Petra.
Kresa Summers

– coming soon
Amy Thompson

– coming soon
Cameron Polson ~ Master Stylist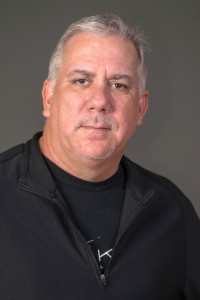 Cameron was the owner of the very successful Rage and Outrage salons for 23 years and Licensed for 35 years. He is Agency represented by The Wall group as an editorial and advertising stylist for TV and Movie sets. Cameron has advanced education from many industry greats Trevor Sorbie, Robert DeLanza, Vidal Sassoon, and Toni &Guy. He also worked for Nexus hair care as Part of they're design team under Patrick Daniel the director of education. His area's of expertise are Men's hair design, keratin smoothing, perms, color and evaluating what styles work best with you face shape and lifestyle. If you are a professional or have a busy lifestyle and time is of the essence Cameron would be a good fit as he prides himself in fast, efficient and precise work.
Recent Posts

CURRENT VISITORS

Recent Comments

Tag Cloud

Photo Gallery